The best things in life are FREE and so are the most of chrome apps for Gmail. You should already be aware of some, if you are a Gmail user. Here we have gathered a list of some of the best and recent Chrome extensions that will improve your Gmail experience.
Mail checker plus
Mail checker is a pain reliever. No it's not a spray !! But it does help you relieving the pain of logging into your Gmail account to check on new mails. And of course it's free. It features delete, archive, spam, star and mark as read functionality. Just log into your Gmail account and then click me to add and use the app.
Boomerang
"Where have you been all these days??" will be the first thought when you start using it. With Boomerang you can write emails and schedule them for later.
All you have to do is just click on the "Send later" icon as shown in the image below and fix the date and time.
Boomerang also allows you to follow up important messages. Just check on the 'boomerang this' box. Then, Boomerang reminds you when the recipient doesn't reply.
What are you waiting for?? Click me to start using Boomerang and flatter your boss with punctual follow ups.
Right inbox
Right inbox is very similar to boomerang with a different look. It helps to Schedule Emails in Gmail, set Reminders and follow Up.
Wisestamp Email signatures
No more 'thanks, regards, yours, love' for every mail . Thanks to WISESTAMP!!With WiseStamp, one can add signatures and also can link your latest blog posts, latest tweets, Facebook fan page, Google+ profile, IM icons, LinkedIn profile, random quotes, and much more. Once installed, you have to create an account on WiseStamp. After registration, select the type of signature (Personal or Business). That's it!!. Now all that you have to do is refresh gmail. When you open COMPOSE you will notice a new WiseStamp icon in the popup window. Just select your signature and you are good to go.
Frame bench
A common platform for sharing files. The main objective of Frame bench is online collaboration. Online collaboration at times can be painful as most of the time is lost on tracking the changes made. But with Framebench every single person online receives live updates and the updates are stored for offline people.
You can see from the image how easily the message is conveyed, just by scribbling!! Also, the above conversation between Ashelyn and John will be stored for the other team mates, though the conversation involves both image and text. The "sync" it gives among your mates is its exemplary feature. Syncing annotations – Just draw on the image and comment. The image is reached to everyone in the team
Syncing data – whenever a file is shared, it gets added to the FILE PANEL and so accessing becomes much easier with Framebench. Syncing the view – One has to click on the "SYNC ON" buuton to activate this. Whenever there are multiple people online within a workspace, and when one tries opening a file and the rest can see it open automatically on all other devices. Everything he does will get reflected on the other screens! Whether you're changing the presentation slides, zooming into a high resolution image, or annotating an important video frame, framebench makes sure everyone watches this activity with zero time lag.
It also allows users to dump all files in one place. Hence referring to a particular file of a specific project becomes easy.
In Framebench, you can see who is online and you can directly click on him and have a discussion.
It also allows to transfer media files more than 25 MB. You can also share your framebench files publicly via facebook, twitter and other social networks. As google hangout and framebench work hand in hand you can launch your hangout right from framebench.
Yesware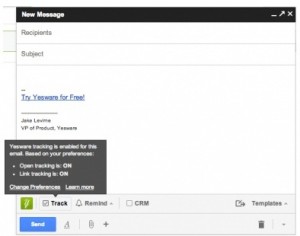 Dude, my date has not called me back. Should I call her???… Dude… my condition is worse I don't even know if my client has read my mail….Should I send him a reminder??? When we send gmails, we're left waiting for a reaction — any reaction, especially from customers. Wating for your date to call you back wouldn't be worse. !!
Yesware full stops the WAITING. It helps you to track your gmail. It notifies you if your sent mail is opened and if opened when and WHERE was it opened. Yes you read it right ! It gives you the opening place of your sent mail. Also it notifies if the link on the mail is opened. All you have to do is install and click on 'track' while composing a gmail. It also reminds your follow-ups
Signals by hubspot
This is very similar to yesware. It helps you to track your mails. And also helps you with follow ups.
Gmail offline
Definitely works without internet. After first start-up, Gmail offline will automatically synchronize messages when chrome is running with internet connection available.
There you go folks. The list contains some of the best Gmail extensions available in Chrome Web Store that can improve your Gmail browsing experience. If you've used any other extensions to make Gmail better in Chrome, we'd love to hear about them in the comments.